Fortune in Blood
A Los Angeles Crime Heist Mystery Thriller Novel
by Thriller Author Phil Philips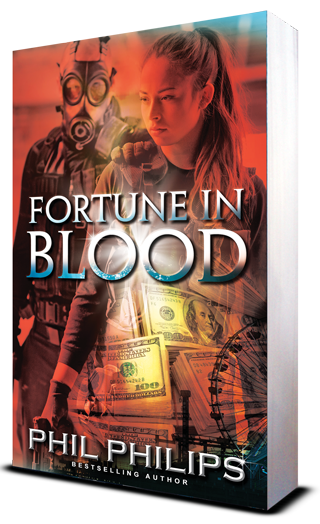 Prequel to Best Seller Mona Lisa's Secret
A NOVEL OF MURDER, THEFT, BETRAYAL AND MONEY …
LOTS OF IT …

Joey used to be a carefree surfer kid on Venice Beach. But as the youngest son of a notorious gangster, it seems he can't escape the life. Soon he's forced to prove himself by leading a team in the heist of the century. Will he be able to pull it off?
Vince was always worried about getting to lectures on time … and spending time with his hot girlfriend. But everything changes when he's embroiled in his detective father's world. Now he's on the run for his life from the mob.
FBI Agent Monica is smart, beautiful, tough and unyielding. Caught in the middle of the mob and the police, her loyalty is being questioned by both sides. But Monica seems to have her own agenda … In a world where corruption is rife, she will be tested to the limit.
Who can be trusted and who will be left standing? And who will ultimately escape with all the money? A showdown is set in motion and no one will be left unscathed.
In this elaborately plotted, fast-paced thriller, Phil Philips takes you on a roller coaster ride that will keep you guessing until the very last page.
Click on the above image to download a

FREE

sample chapter.
---
PURCHASE THE DIGITAL BOOK NOW!
PURCHASE THE PAPERBACK OR HARDBACK COPY NOW!
Prices vary from store to store.
If bookstores do not have the books in stock, they will be able to order it for you.
Audio version also available

Fans of Matthew Reilly and James Patterson will love Fortune in Blood.
Fortune in Blood also available on Audio Book