Mona Lisa's Secret
A Historical fiction Mystery & Suspense Novel
A Joey Peruggia Adventure Series – Book 1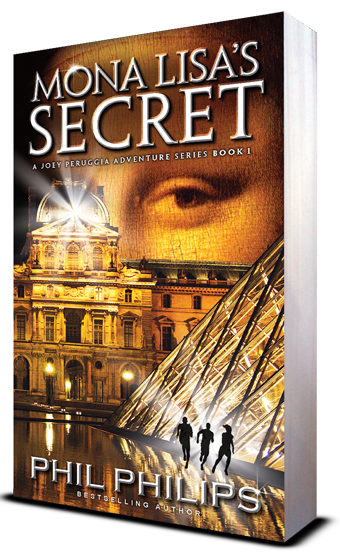 THE TRUTH WILL BE REVEALED
Joey is the great-grandson of Vincenzo Peruggia, the man who stole the original Mona Lisa in 1911. Along with his girlfriend, Marie, an art connoisseur, he stumbles across his father's secret room and finds himself staring at what he thinks is a replica of da Vinci's most famous masterpiece.
BUT IT IS NO FAKE …
The Louvre has kept this secret for over one hundred years, waiting for the original to come to light, and now they want it back at any cost.
With Marie held hostage and the Louvre curator and his men hot on his trail, Joey is left to run for his life in an unfamiliar city, with the priceless Mona Lisa his only bargaining chip. While formulating a plan to get Marie back with the help from an unexpected quarter, Joey discovers hidden secrets within the painting, secrets which, if made public, could change the world forever.
In this elaborately plotted, fast-paced thriller, Phil Philips takes you on a roller-coaster ride through the streets of Paris and to the Jura mountains of Switzerland, to uncover a secret hidden for thousands of years …
Over 4 Million Page Reads!
Fans of Dan Brown's, da Vinci code will love Mona Lisa's Secret.
PURCHASE Mona Lisa's Secret DIGITAL BOOK NOW
PURCHASE A PAPERBACK OR HARDBACK COPY NOW!

Prices vary from store to store.
Audio version also available

Mona Lisa's Secret, Screenplay available on request to Producers/Directors.