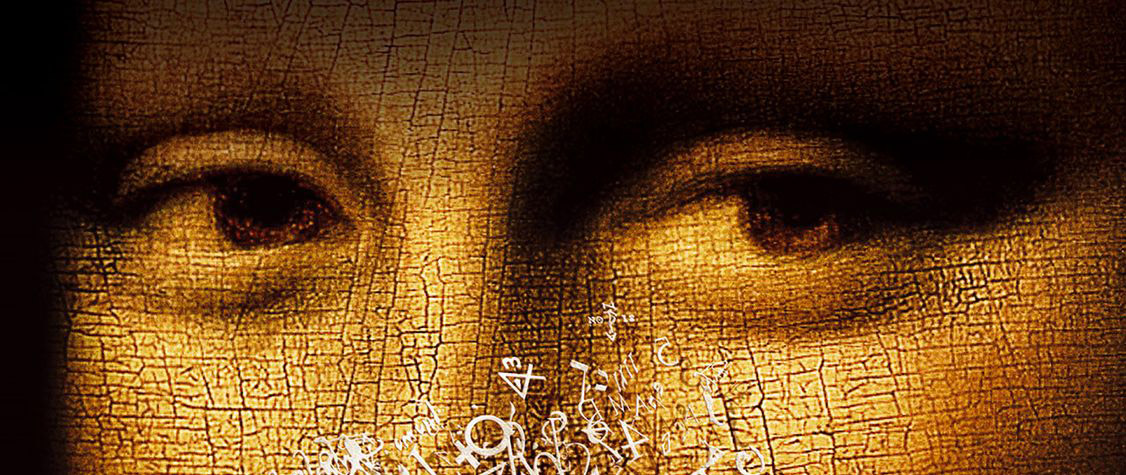 Thrillers for fans of Dan Brown's worldwide bestseller Da Vinci Code
Over ten years, 200 million copies, and three film adaptation later, Dan Brown's novel remains one of the most popular books of the 21st century. From secret societies and religious zealots to art history and familiar landmarks, it's the perfect balance between an accessible, smart thriller and an outrageous, conspiracy-laden romp. Throw in a side of controversy—a non-celibate Jesus and Mary Magdalene, for example—and it's no wonder everyone and their mother has read it.
If you're looking for more smart thrills, these books will take you on a roller coaster ride through ancient science, religion, and history.
My Top Ten Similar Da Vinci Code Style Books You Must Read
The Da Vinci Code
by Dan Brown 
While in Paris on business, Harvard symbologist Robert Langdon receives an urgent late-night phone call: the elderly curator of the Louvre has been murdered inside the museum. Near the body, police have found a baffling cipher. While working to solve the enigmatic riddle, Langdon is stunned to discover it leads to a trail of clues hidden in the works of Da Vinci—clues visible for all to see—yet ingeniously disguised by the painter. Langdon joins forces with a gifted French cryptologist, Sophie Neveu, and learns the late curator was involved in the Priory of Sion—an actual secret society whose members included Sir Isaac Newton, Botticelli, Victor Hugo, and Da Vinci, among others. In a breathless race through Paris, London, and beyond, Langdon and Neveu match wits with a faceless powerbroker who seems to anticipate their every move. Unless Langdon and Neveu can decipher the labyrinthine puzzle in time, the Priory's ancient secret—and an explosive historical truth—will be lost forever.
1. Mona Lisa's Secret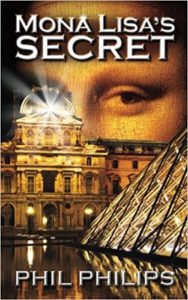 by Phil Philips

HE TRUTH WILL BE REVEALED
Joey is the great-grandson of Vincenzo Peruggia, the man who stole the original Mona Lisa in 1911. Along with his girlfriend, Marie, an art connoisseur, he stumbles across his father's secret room, and finds himself staring at what he thinks is a replica of da Vinci's most famous masterpiece.
BUT IT IS NO FAKE …
The Louvre has kept this secret for over one hundred years, waiting for the original to come to light, and now they want it back at any cost.
With Marie held hostage and the Louvre curator and his men hot on his trail, Joey is left to run for his life in an unfamiliar city, with the priceless Mona Lisa his only bargaining chip. While formulating a plan to get Marie back with the help from an unexpected quarter, Joey discovers hidden secrets within the painting, secrets which, if made public, could change the world forever.
View the Mona Lisa's Secret Cinematic Book Trailer here.
5 STAR READING!
2.
Seven Deadly Wonders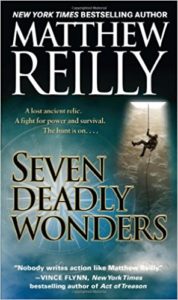 by Matthew Reilly
A legend of the ancient world decrees that every 4,500 years, a terrible solar event will wreak worldwide destruction . . . but whoever sets the Golden Capstone atop the Great Pyramid at Giza will avert disaster and gain the ultimate prize: a millennium of world dominance. Now the Sun is turning once again and the nation will battle nation to retrieve the missing Capstone . . . but a group of small nations, led by super soldier Jack West Jr., bands together to prevent any one country from attaining this frightening power. Thus the greatest treasure hunt of all time begins—an adrenaline-fueled race on a global battlefield.
3.
The Lost Order
The Knights of the Golden Circle was the largest and most dangerous clandestine organization in American history. It amassed billions in stolen gold and silver, all buried in hidden caches across the United States. Since 1865 treasure hunters have searched, but little of that immense wealth has ever been found.
Now, one hundred and sixty years later, two factions of what remains of the Knights of the Golden Circle want that lost treasure―one to spend it for their own ends, the other to preserve it.
Thrust into this battle is former Justice Department agent Cotton Malone, whose connection to the knights is far deeper than he ever imagined. At the center is the Smithsonian Institution―linked to the knights, its treasure, and Malone himself through an ancestor, a Confederate spy named Angus "Cotton" Adams, whose story holds the key to everything. Complicating matters are the political ambitions of a reckless Speaker of the House and the bitter widow of a United States Senator, who together are planning radical changes to the country. And while Malone and Cassiopeia Vitt face the past, ex-president Danny Daniels and Stephanie Nelle confront a new and unexpected challenge, a threat that may cost one of them their life.
From the backrooms of the Smithsonian to the deepest woods in rural Arkansas, and finally up into the rugged mountains of northern New Mexico, The Lost Order by Steve Berry is a perilous adventure into our country's dark past, and a potentially even darker future.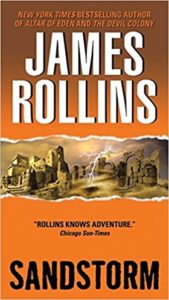 The explosive first adventure in James Rollins' bestselling Sigma Force series!
A freak explosion in the British Museum in London ignites a perilous race for an earth-shaking power source buried deep beneath the sands of history. Painter Crowe is an agent for Sigma Force, a covert arm of the Defense Department tasked with keeping dangerous scientific discoveries out of enemy hands. When an ancient artifact points the way toward the legendary "Atlantis of the Sands," Painter must travel across the world in search of the lost city-and a destructive power beyond imagining.
But Painter has competition. A band of ruthless mercenaries, led by a former friend and ally, are also intent on claiming the prize, and they will destroy anyone who gets in their way.
Ancient history collides with cutting-edge science-with the safety of the world at stake!
5.
The Lost Codex
In 930 CE, a revered group of scholars pens the first sanctioned Bible, planting the seed from which other major religions will grow. But in 1953, half the manuscript goes missing while being transported from Syria. Around the same time, in the foothills of the Dead Sea, an ancient scroll is discovered—and promptly stolen.
Six decades later, both parchments stand at the heart of a geopolitical battle between foreign governments and radical extremists, threatening the lives of millions. With the American homeland under siege, the president turns to a team of uniquely trained covert operatives including FBI profiler Karen Vail, Special Forces veteran Hector DeSantos, and FBI terrorism expert Aaron Uziel. Their mission: Find the stolen documents and capture—or kill—those responsible for unleashing a coordinated and unprecedented terrorist attack on US soil.
Set in DC, New York, Paris, England, and Israel, The Lost Codex has been hailed by Douglas Preston as "a masterwork of international suspense" and "an outstanding novel."
6.
The Codex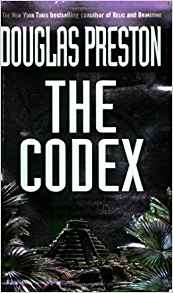 by Douglas Preston
"Greetings from the dead," declares Maxwell Broadbent on the videotape he left behind after his mysterious disappearance. A notorious treasure hunter and tomb robber, Broadbent accumulated over a half a billion dollars' worth of priceless art, gems, and artifacts before vanishing—along with his entire collection—from his mansion in New Mexico.
At first, robbery is suspected, but the truth proves far stranger: As a final challenge to his three sons, Broadbent has buried himself and his treasure somewhere in the world, hidden away like an ancient Egyptian pharaoh. If the sons wish to claim their fabulous inheritance, they must find their father's carefully concealed tomb.
The race is on, but the three brothers are not the only ones competing for the treasure. This secret is so astounding it cannot be kept quiet for long. With half a billion dollars at stake, as well as an ancient Mayan codex that may hold a cure for cancer and other deadly diseases, others soon join the hunt—and some of them will stop at nothing to claim the grave goods.
The bestselling coauthor of such page-turning thrillers as Relic and The Cabinet of Curiosities, Douglas Preston now spins an unforgettable tale of greed, adventure, and betrayal in The Codex.
7.

The Fifth Gospel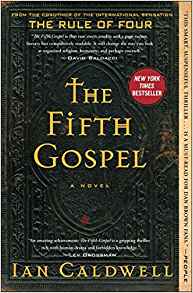 by Ian Caldwell
The #1 Indie Next Pick and instant, long-running New York Times bestseller from Ian Caldwell, coauthor of the international sensation The Rule of Four: The Fifth Gospel is a masterful intellectual thriller that "will change the way you look at organized religion, humanity, and perhaps yourself" (David Baldacci).
Acclaimed by critics as a "smart, suspenseful thriller" (People) that "kicks off at ninety miles per hour and doesn't slow down" (Associated Press), Ian Caldwell's The Fifth Gospel was also a significant commercial success that spent eight weeks on the New York Times bestseller list in hardcover and was selected as a #1 Indie Next Pick by America's independent booksellers.
In 2004, as Pope John Paul II's reign enters its twilight, a mysterious exhibit is under construction at the Vatican Museums. A week before it is scheduled to open, its curator is murdered at a clandestine meeting on the outskirts of Rome. The same night, a violent break-in rocks the home of the curator's research partner, Father Alex Andreou. When the papal police fail to identify a suspect in either crime, Father Alex undertakes his own investigation. To find the killer he must reconstruct the dead curator's secret: what the four Christian gospels—and a little-known, true-to-life fifth gospel known as the Diatessaron—reveal about the Church's most controversial holy relic. But just as he begins to understand the truth about his friend's death, Father Alex finds himself hunted down by someone with vested stakes in the exhibit—someone he must outwit to survive.
8.

The Atlantis Gene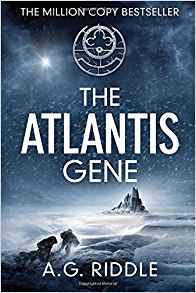 by A.G Riddle
70,000 years ago, the human race almost went extinct.
We survived, but no one knows how.
Until now.
The countdown to the next stage of human evolution is about to begin, and humanity might not survive this time.
THE ATLANTIS GENE is a thought-provoking technothriller about global genetic experiments, ancient conspiracies, and the mysteries of human evolution. Its complex characters and historical and scientific details will stay with you long after you finish. This fast-paced adventure is the first book in The Origin Mystery Series, the global bestselling trilogy that has sold over two million copies, been translated into 23 languages and published in over thirty countries, and is in development to be a major motion picture.
9.
The Six Sacred Stones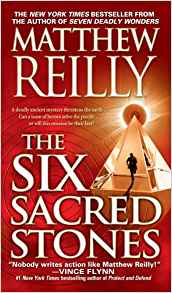 by Matthew Reilly
After their thrilling exploits in Matthew Reilly's rampaging New York Times bestseller, 7 Deadly Wonders, supersoldier Jack West Jr. and his loyal team of adventurers are back, and now they face an all-but-impossible challenge.
A mysterious ceremony in an unknown location has unraveled their work and triggered a catastrophic countdown that will climax in no less than the end of all life on Earth.
But there is one last hope.
If Jack and his team can find and rebuild a legendary ancient device known only as the "Machine," they might be able to ward off the coming armageddon. The only clues to locating this Machine, however, are held within the fabled Six Sacred Stones, long lost in the fog of history.
And so the hunt begins for the Six Sacred Stones and the all-important knowledge they possess, but in the course of this wild adventure Jack and his team will discover that they are not the only ones seeking the Stones and that there might just be other players out there who don't want to see the world saved at all.
From Stonehenge in England to the deserts of Egypt to the spectacular Three Gorges region of China, The 6 Sacred Stones will take you on a nonstop roller-coaster ride through ancient history, modern military hardware, and some of the fastest and most mind-blowing action you will ever read.
10.
Origin
by Dan Bown
Robert Langdon, Harvard professor of symbology and religious iconology, arrives at the ultramodern Guggenheim Museum Bilbao to attend a major announcement—the unveiling of a discovery that "will change the face of science forever." The evening's host is Edmond Kirsch, a forty-year-old billionaire and futurist whose dazzling high-tech inventions and audacious predictions have made him a renowned global figure. Kirsch, who was one of Langdon's first students at Harvard two decades earlier, is about to reveal an astonishing breakthrough . . . one that will answer two of the fundamental questions of human existence.
As the event begins, Langdon and several hundred guests find themselves captivated by an utterly original presentation, which Langdon realizes will be far more controversial than he ever imagined. But the meticulously orchestrated evening suddenly erupts into chaos, and Kirsch's precious discovery teeters on the brink of being lost forever. Reeling and facing an imminent threat, Langdon is forced into a desperate bid to escape Bilbao. With him is Ambra Vidal, the elegant museum director who worked with Kirsch to stage the provocative event. Together they flee to Barcelona on a perilous quest to locate a cryptic password that will unlock Kirsch's secret.
Navigating the dark corridors of hidden history and extreme religion, Langdon and Vidal must evade a tormented enemy whose all-knowing power seems to emanate from Spain's Royal Palace itself . . . and who will stop at nothing to silence Edmond Kirsch. On a trail marked by modern art and enigmatic symbols, Langdon and Vidal uncover clues that ultimately bring them face-to-face with Kirsch's shocking discovery . . . and the breathtaking truth that has long eluded us.
10 Fantastic Historical Fiction Books To Read If You Liked Dan Brown's Da Vinci Code